AstraZeneca join forces with Roche to share early data trial and teams up with Karolinska Institute for an integrated centre for cardiovascular and metabolic diseases.
On June 26, AstraZeneca and Roche announced that the companies have entered a new collaboration to share a specific type of early research data related to drug design. The aim is to further accelerate the discovery of high quality compounds with an increased chance of clinical success. Under the deal, both companies will contribute data to a third company, MedChemica Ltd. of the U.K., that specializes in scrutinizing chemical compounds to pinpoint structures that tend to create safety or efficacy problems. By sharing their past design successes and failures, the companies say they hope to increase their odds of building safe and effective drugs.
According to a press release, using a dedicated technology (Matched Molecular Pair Analysis, MMPA) modifications will be identified, which companies can apply to their compound structures in order to improve their metabolism, pharmacokinetics or safety, without divulging confidential information about their chemical structures. This is stated to give both companies the opportunity to efficiently reapply useful medicinal chemistry know-how embedded in their combined databases of experimental results, in order to identify potential new drug candidates using fewer rounds of design, synthesis and testing. Both Roche and AstraZeneca will make their selected databases available for this type of joint analysis and are committed to making the data generated available to the broader research community, including research foundations, charities and academia.
Advertisement
New research center
AstraZeneca is also teaming up with Karolinska Institute regarding the establishment of a joint centre for research on cardiovascular and metabolic diseases. The new centre will be named "Karolinska Institutet/AstraZeneca Integrated Cardio Metabolic Centre" (KI/AZ ICMC) and will be located on the KI Campus. The centre's aim is to identify and validate novel targets within cardio-metabolic diseases and will focus mainly on three strategic research themes: Cardiac Regeneration, Islet Health (Diabetes) and Diabetic Nephropathy across modalities like small molecules and biologics.
The agreement is AstraZeneca's largest ever with a Swedish academic institution. During the five-year initial contract period, AstraZeneca will contribute up to 20 MUSD annually, in total up to 100 MUSD (for the time being approximately 650 MSEK).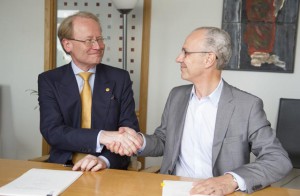 Anders Ramsten, Principal at Karolinska Institute, and Anders Ekblom, CEO at AstraZeneca AB
Advertisement