Medicine meets technology in Linköping and  its cutting edge research projects and the new Wallenberg Centre of Molecular Medicine will hopefully boost the city to the next life science level.
Linköping University (LiU) achieved university status in 1975 and is today one of Sweden's largest higher education institutions, with over 27 000 students and 4 000 employees over four campuses. In the most recent Shanghai ranking (the Academic Ranking of World Universities) LiU was placed amongst the world's top 300 universities and the University Hospital has been ranked as one of the top hospitals in Sweden regarding quality-of-care.
At an early stage the educational institutions in the city targeted a unique niche of interdisciplinary research and problem-based learning. LiU was first in Sweden to introduce graduate research schools for different themes and the model later spread to other parts of the university and became a national success. In 1986 the Faculty of Health Sciences was the first in Sweden to use problem-based learning, PBL, and the university became the first university in the world to allow students at educational departments to treat actual patients. Since then innovation and answering complex questions has always been central in both education and research. And in the life science field the research has been particularly strong, for example in biomaterials, biosensors, developmental biology, medical image science, organic electronics and protein folding.
Advertisement

Linköping was honored with the title "Student city of the year" 2016/2017.
Ready for the future
One of the city's most recent life science efforts is the newly inaugurated Wallenberg Centre for Molecular Medicine (WCMM), one of four nodes in Sweden that receives a SEK 150 million donation from the Knut and Alice Wallenberg Foundation to re-establish Sweden's leading position in medical research. The Linköping center will focus on the medicine-technology interface and built upon the area's strengths in medtech, material science and bioengineering. LiU is also contributing SEK 115 million and Region Östergötland SEK 56 million. Around 60 local research groups are already associated with the WCMM and 15 further research groups will be added.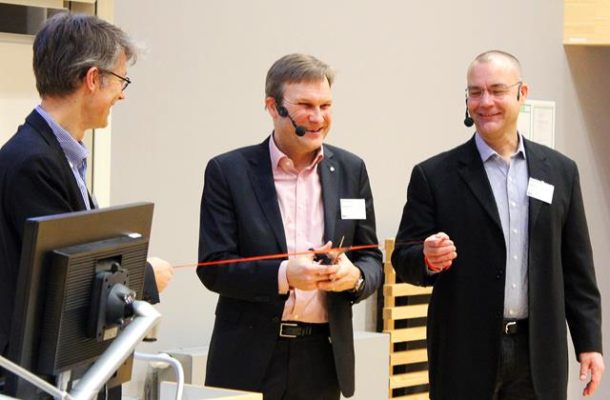 The inauguration of WCMM in Linköping
"In ten years I hope that the applied and patient-close research performed in Linköping will benefit the healthcare," said Stefan Thor, professor and head of the center at time of the inauguration.
WCMM also collaborates with Forum Scientum, a multi-disciplinary doctoral program of natural sciences, engineering and biomedicine. Today members from around 20 different research groups, five institutions and three campuses are part of the network. The idea is also to prepare the students for a professional career, for example by arranging courses and events to increase proficiency within the research area of the individual student and transcend disciplinary boundaries and equip students with skills attractive to future employers.
Neck-breaking research
Last year, professor of organic electronics Magnus Berggren was awarded SEK 15 million as a Wallenberg Scholar, and he could spend the money on the research of his choice. "We usually talk about ground-breaking research, but now we can devote ourselves to neck-breaking research," said Berggren after the announcement. Ground-breaking sounds too frivolous he said. During the last couple of years he and his team have made several breakthroughs.
For example they have developed the first chemical chip, which has gained a lot of international attention and has led to new collaborative research projects. Charge carriers in the chip consist of chemical substances with different functions and this makes it possible to control and regulate the signal pathways of cells in the body. Berggren and his team are now looking into the field of bioelectronics. "Within a few years our chemical circuits will be more rapid than the nervous system," he says.
AI for medical imaging
The Center for Medical Image Science and Visualization (CMIV) is world renowned and at the forefront in its field. Like many other centers it performs multidisciplinary research and its mission is to develop future methods and tools for image analysis and visualization for applications within healthcare and medical research. Earlier this year the center and its collaborators received a 10 million SEK funding from VINNOVA in order to establish a national arena for research and innovation within artificial intelligence, AI, for medical image analysis. The aim is to create a. national resource for large scale analytical image diagnostics, called Artificial Imaging Diagnostics Arena (AIDA).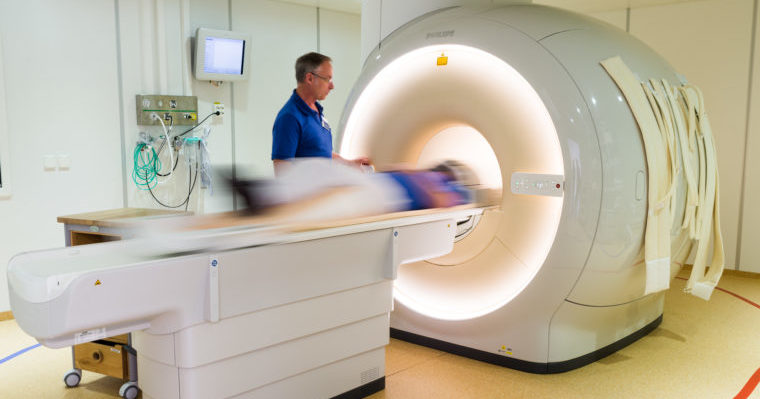 CMIV
"AI gives us completely new possibilities and it is a very powerful technique, but so far it has not lead to so much practical use in the healthcare. It is a large gap to overcome in order to make it work in a clinical environment. AIDA has a unique setup where we gather academia, healthcare and industry in the same place and make a collaboration work in practice. My expectation is that this project will benefit the healthcare," says Claes Lundström, docent at CMIV, head of research at Sectra who participates in the project and head of AIDA.
---
3 X Life science companies
AddBIO develops solutions to solve weak bone problems in the implant industry. Zolidd is a proprietary bioactive nanolayer with a bone-strengthening drug. When the implant with Zolidd on is inserted into bone, the drug is made available to the bone surrounding the implant. The company was founded in 2008.
AMRA is a digital health company and the first in the world to transform images from a rapid, 6-minute whole body MRI scan into precise, 3D-volumetric fat and muscle measurements.
Sectra develops IT solutions and services for storing, viewing and working with medical images. It has its roots in Linköping university and had its first assignments in the 1970s. Today it has subsidiaries in 15 countries. The Group's sales surpassed SEK 1 billion for the first time in 2015/2016. Thanks to its long-term private and institutional owners, Sectra has been able to develop at a controlled pace and remain a Swedish company.
Advertisement