Gothenburg makes use of its strong quadruple helix collaboration between industry, academia, healthcare and society, and its high innovation capacity to place the city at the forefront of future healthcare and medicine.
The annual Gothenburg life science event Park Annual was held at the end of September. It attracted 500 participants who had the chance to network, initiate collaborations and learn more about the latest progress in the region. Something very critical for the success of Gothenburg, according to Charlotta Gummeson, the CEO of Sahlgrenska Science Park, a research and development park focused on strengthening the life science industry in the region.
"It is very important to work together, to look at what the city possesses and to raise what's working well," Gummeson says.
Advertisement
And with a strong collaboration system and a political will, companies are able to develop, grow and stay in the region, she continues, "And we want to think global from day one."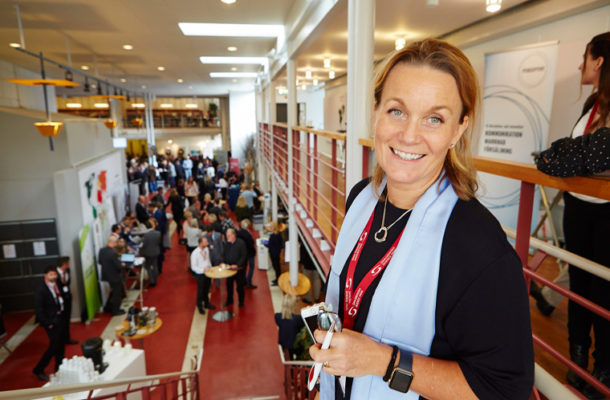 Charlotta Gummeson. Photo: Anna Hult
Sahlgrenska Science Park is jointly owned by the Region Västra Götaland, Business Region Göteborg, the University of Gothenburg (through GU Ventures), Chalmers University of Technology and the City of Mölndal. It is well connected with the other strategic science parks in Gothenburg; Johanneberg Science Park, focusing on the areas of urban development, energy and materials, and Lindholmen Science Park, focusing on transportation and mobility.
"Our model for science parks as a facilitator that joins forces in order to create critical mass is unique compared to other cities I think. There is a clear ownership dialog between the parks and a will to build upon these clusters," Gummeson says.
A new approach for open innovation
A successful example of the city capturing and building upon the strengths already there is the AstraZeneca BioVentureHub in Mölndal, a new approach for open innovation. The company has opened up their offices, laboratory space and facilities to academic groups and biotech companies that could gain competitive advantage by tapping into the company's resources and expertise. The hub has been called a game changer in the Swedish life science industry, and today, companies in the hub include Antaros Medical, Athera Biotechnologies, Lipigon, Mölnlycke, Swecure and Vicore Pharma
The hub has now also taken an important step towards becoming an international research arena. An investment of 3.5 billion SEK was presented by Next Step and Vectura in collaboration with AstraZeneca in October, with the purpose to form a new life science cluster in the area of AstraZeneca's facilities in Mölndal. It is planned to start in 2019 and will house its first tenants in 2021. By 2030 they want to create at least 7 000 workplaces in the cluster and a total area of 100 000 m2.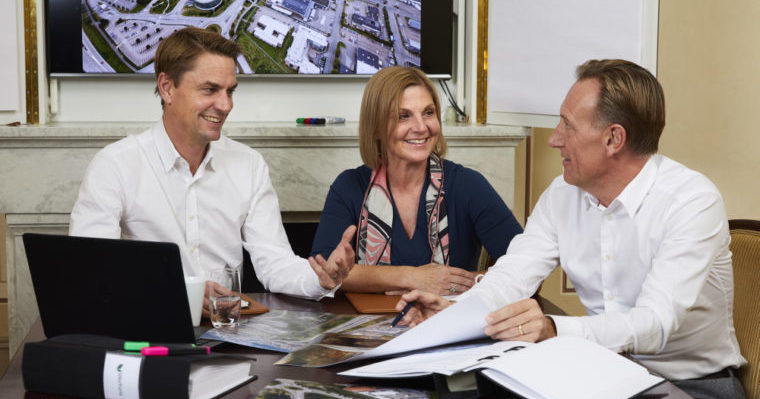 Jacob Torell, CEO Next Step Group, Susanne Ekblom, CEO Vectura Fastigheter and Jan-Olof Jacke, CEO AstraZeneca Sweden. Photo: Fredrik Persson/Next Step
A role model in the project is Stanford University, where meetings and interactions between people has been an important ingredient for success.
"We strongly believe in a life science cluster in the region, since it would mean very good prerequisites and increase cross-fertilization, innovation and attractiveness. The innovation chain is important for AstraZeneca and our ambition to be the hub in one of the world's leading research clusters. In order to succeed it is critical that we attract key competencies and collaborations," said Jan-Olof Jacke, CEO of AstraZeneca Sweden.
Facing the challenges ahead
Another important feature of Park Annual was its theme of the Future and the challenge of adapting to the rapidly ever-changing life science industry, especially when it comes to digital health and the healthcare sector.
"The life science concept will broaden and we need new kinds of competencies, not traditionally related to life science. We have to stay alert to all the new things that are coming, and it is also a very exciting period," says Gummeson. "We want to tackle these challenges through interplay in relevant issues."
Gothenburg has a great academic excellence, originating from the University of Gothenburg, Chalmers University of Technology and the Sahlgrenska University Hospital, to face these challenges. It has a strong tradition of innovation, resulting in for example Losec, the Brånemark implant, drugs against Parkinson's and most recently, the first ever completed pregnancy from a transplanted uterus. In the latest Shanghai ranking the university was placed second in Sweden and 42nd in the world in the subjects of biological sciences and clinical medicine.
Odontology at the university is leading in Sweden, and continues to have a strong international ranking at number 26. The city is also in the forefront of infection and immunology (for example gastrointestinal diseases), metabolic diseases, oncology, cell and gene therapy and ageing research, like Alzheimer's disease. Technical research with medical applications includes microwave technology for medical applications, where Gothenburg is a world leader, biomaterials, bioimaging and bionics. The life science sector in the city employs around 9 000 people and there are approximately 540 companies working in the field.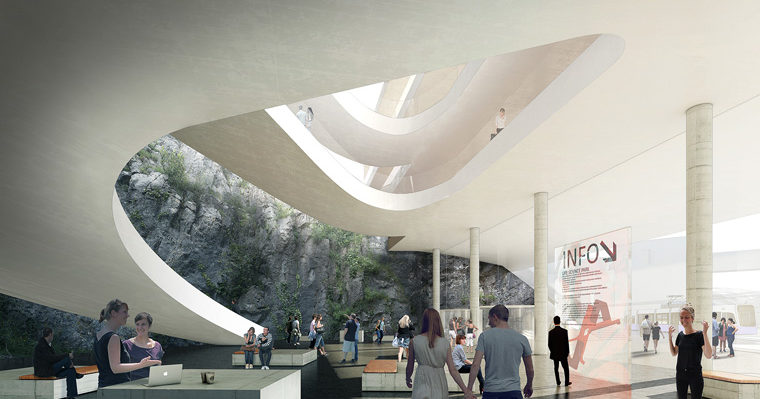 Sahlgrenska Life. Illustration. Arkitema Architects
The university is now also more strategically gathering researchers in life sciences at Medicinareberget, where Sahlgrenska Science Park is located. Departments in the Faculty of Science have begun a process to move to a new building that integrates them with the Sahlgrenska Academy, home to institutes for biomedicine, odontology, clinical sciences, medicine, neuroscience and physiology, and health and care services, along with other bioscience institutions of the university. The university hospital, one of the largest healthcare units in Northern Europe, also has its own innovation and testing activities, with the aim to be at the forefront of healthcare.
In order to tie together research and clinical care, the construction of a new life science center, Sahlgrenska Life, at Medicinareberget (85 000 m2) will begin in 2019. Last year the hospital also inaugurated a new imaging and intervention center of 21 000 m2, BOIC, combining the latest imaging techniques with leading medical competence.
The city is also home to Clinical Studies Sweden, financed by the Swedish Research Council to support and develop the conditions for conducting high quality clinical studies and ensure the country's position as a competitive and attractive country to conduct studies in.
Individuals making a difference
This year's Park Annual also included a new ingredient, the Arvid Carlsson (the Nobel Laureate in Medicine 2000) Award by Sahlgrenska Science Park. It went to Erik Gatenholm and Hector Martinez, two entrepreneurs who have built one of the fastest-growing life science companies in Sweden with an international and sustainable mindset from the start. Their company, CELLINK, was founded in 2016 and is based on the idea to produce "biological ink" that could be used in various printers to print different types of cell tissue. It is the first bionic company in the world and the first bioprint company in Scandinavia.
"The award also says a lot about the life science sector in Gothenburg," says Gummeson. "We tie together the quadruple helix perspective of business, academia, healthcare and society with individuals who want to make a difference."

Hector Martinez and Erik Gatenholm, the winners of the Arvid Carlsson Award 2017
---
6 x life science companies in Gothenburg:
Abigo Medical 
The company, established in 1989, develops, manufactures and markets a wide range of OTC and prescription pharmaceuticals, as well as an assortment of medical devices for advanced wound care and ENT.
Albireo 
A clinical-stage biopharmaceutical company (spun-out from AstraZeneca in 2008) focused on the development and potential commercialization of novel bile acid modulators. Treatment targets are orphan pediatric liver diseases and gastrointestinal disorders where the improper flow or absorption of bile causes serious medical conditions for which there is high unmet need.
Antaros Medical 
A service provider in innovative MRI/PET imaging techniques, clinical drug development and understanding of human pathophysiology. Specializes in cardio-metabolic conditions and oncology/immuno-oncology.
Immunicum 
The company develops novel immuno-oncology therapies against a range of solid tumors. The approach is based on allogeneic dendritic cells that are designed to stimulate a personalized anti-tumor immune response in each patient.
Promimic 
The company, founded in 2004, develops and markets nano-thin surface modification for all implant materials and geometries. The company is specialized in nanotechnology and the production of hydroxyapatite and has offices both in Europe and the US.
TATAA Biocenter 
Founded in 2001, the company is today a provider of gene expression profiling services and an organizer of hands-on training in quantitative real-time PCR (qPCR) and Next Generation Sequencing (NGS).
Advertisement