Danish, Finnish and Swedish organisations join forces to facilitate business partnering and networking at Arab Health and the upcoming 2018 event, 75 Nordic companies will showcase their solutions.
Business Finland, Business Sweden, Danish Health Tech Group, Global Pharma Consulting and Nordic Innovation are facilitating four national pavilions at the event. And to kick off the trade fair, the organisations announce a Nordic Business Partnering and Networking Reception for invited guests on Monday 29th of January at 7-10 pm, at the Sofitel Dubai Downtown.
"We believe the Nordic countries can offer innovative solutions to the global healthcare challenges, and by joining forces on a Nordic level at Arab Health, we can combine our respective strengths and showcase a critical mass of companies that are ready to export those solutions," says Senior Innovation Adviser Mona Truelsen from Nordic Innovation.
Official Nordic representatives including Ms. Pirkko Mattila, Finland's Minister of Social Affairs and Health, HE Merete Juhl, Denmark's Ambassador in UAE, Mr Niclas Jacobsson, Deputy Director-General Swedish Ministry of Health and HE Henrik Landerholm, Sweden's ambassador in UAE, will be attending the networking event.
Digital health from Finland
At the four national pavilions, the Nordic companies will showcase cutting-edge med-tech solutions and technologies to the MENA region. According to Meria Heikelä, Director at Business Finland and co-organiser of the Finnish pavilion, Finland ranks among the three strongest health technology economies in the world, with digital health being its largest high-tech export.
"Finland's world-class research and technology competencies are the pinnacle of its health sector and one reason why Finland has one of the most efficient healthcare systems in the world. Preventive healthcare and rehabilitation solutions are among the key focus areas of Finland at Arab Health 2018," explains Meria Heikelä.
Danish medtech
With the annual Pavilion of Denmark at Arab Health and a recent business delegation visit to UAE and Saudi Arabia healthcare sectors, Danish Health Tech Group is committed to share the Danish med-tech strengths with stakeholders in the MENA region.
"In Denmark, we prioritise design and quality, and innovate through an inherent focus on public-private sector cooperation and by proactively involving patients and staff in the healthcare sector," says Thomas Andersen, Head of Danish Health Tech Group.
Two times Swedish world-class healthcare
While all the Danish companies are exhibiting with Danish Health Tech Group, Sweden offers two different pavilions. The Innovation Pavilion by Sweden and the official Swedish pavilion each has representatives from 20 Swedish healthcare and life science companies.
"Sweden is known for its world-class' innovations within the healthcare sector. Much of this success derives from the tradition of entrepreneurship through the close collaboration between the government, academia and industry," says Fredrik Bodin, Trade Commissioner of Sweden to the UAE, co-organiser of the official Swedish pavilion.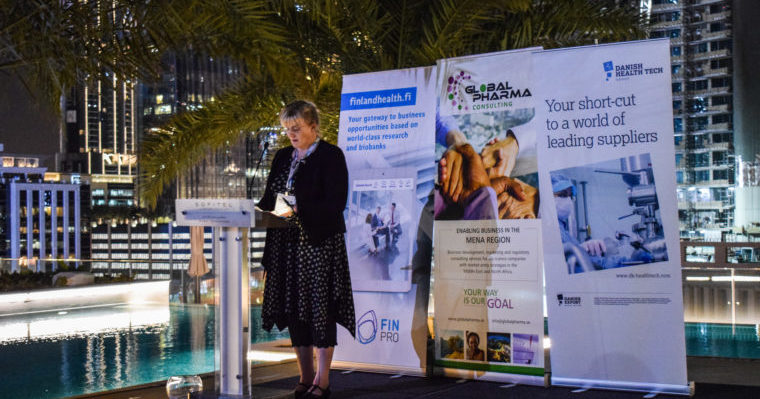 Photo caption: At Arab Health 2017, representatives from Nordic life science companies and key local stakeholders discussed how they can support the healthcare markets in the Middle East. The discussion continues at the networking reception at Arab Health 2018.
Source: Danish Export Association