What are the key factors for survival as a CMO today? We have spoken to some Nordic CMOs to get an insight into the current possibilities and challenges.
The pharmaceutical sector is undergoing some dramatic changes, with pipeline challenges, pricing pressures and emerging global markets reshaping the way that companies operate. The CMO marketplace has not been spared and has become a brutally competitive one. For smaller US and European CMOs competing with Indian and Chinese CMOs the solution may ultimately be to merge with each other or abandon particular specialties within pharmaceutical manufacturing. Another alternative is to quit the business completely in order to survive, according to the article The Future of Pharmaceutical Contract Manufacturing by Robin Elizabeth Margolis. But there are less drastic approaches that are well worth considering. Clarkstone Consulting has highlighted some key trends that are shaping the contract manufacturing industry. The report 2014 Contract Manufacturing Trends concludes that contract manufacturers that differentiate their offerings and capabilities will be able to both retain customers and grow their business. The crucial strategy to become a market leader is to adapt quickly by taking advantage of the transformative nature of the industry.
Withstanding competition
Andrea Celia Porchia, Senior Director Business Development responsible for the Scandinavia region at CMC Biologics, is in line with the conclusion that adapting is crucial for survival in the highly competitive CMO market.
"Nordic CMOs are not immune to the challenge of competing in the global contract manufacturing market. Contract manu­facturers that differentiate their offerings and capabilities will be able to retain customers and grow their business within this highly competitive marketplace. Those that are flexible to adapt quickly by taking advantage of the transformative nature of the industry will emerge as the market leaders," she says.
CMC Biologics is a global contract process development and manufacturer of biopharmaceuticals company. The company was founded in Denmark in 2001 and provides biopharmaceutical development and manufacturing solutions, such as delivering solutions for the scale‐up and cGMP manufacture of protein based therapeutics for pre‐clinical, clinical, and commercial production. As a CMO that has been active for 15 years, the company has seen the changes in the market. Porchia notes for example that the European biotech contract development and manufacturing market continues to grow year-over-year as a result of greater demand and interest in outsourced services.
"Pharmaceutical and biotech companies are allocating a greater percentage of their budgets for contract services that were previously considered core business. Analysts suggest that this demand for services will continue over the next few years and, as such, capacity expansions through either internal capital programs or acquisitions are being planned by numerous CMOs. To meet the demands of an industry with various sizes and geographies, CMOs are securing investments and breaking ground on new facility expansions globally," Porchia says.
Offering a variety of services
Based in Malmö in southern Sweden, the contract developer and manufacturer of pharmaceuticals QPharma has been running its manufacturing plant and development labs for more than 40 years. During the late 1990s the company became a contract manufacturer. Kenneth Stokholm, Managing Director at QPharma, has observed the changes in the CMO sector for some time and he agrees that the market is quite competitive.
"Throughout the global pharmaceutical industry the main driver for the majority of the companies is cost, especially when it comes to generic products where the prices are even more under pressure. As for novel types of medicines the focus is more on delivery on time and line extension on next generation products. Overall, the key factor to being a successful CMO today is identifying products that withstand competition, such as products that are more niched, for example restricted products, polymeric products like implants or tablets that have complex, functional coatings."
At the same time, offering a broader variety of services has become a more important factor for many customers.
"A number of companies have realized that transfer programs need to be done in a seamless way throughout the whole chain to commercialization. We have seen that the ability to offer development services as well as commercialization provides a big benefit," says Stokholm. Porchia reports that according to CMC Biologic's experiences, customers tend to be driven by similar demands.
"Our customers are driven primarily by our wide range of services, cost efficiency, quality and timelines. Furthermore, since many pharma companies are small, or even virtual, they are in great need of partnering with a CMO that functions as an external consultant for our expertise as well as our services," she says.
QPharma is a relatively small organization, something that has also allowed the company to be a flexible partner, according to Stokholm.
"The agility of a smaller company is something that customers appreciate. Compared to large scale CMOs it is easier for us to adapt to shorter lead times and late stage changes, as well as product presentations."
Quality and stability
The Asian countries still remain a first-hand choice for large volume production and Nordic and European CMOs have been competing with Indian and Chinese CMOs. But in the past few years there seems to have been somewhat of a wakeup-call that setting the production in low cost-countries may come at a price. Additional costs for transportation and re-release of products in the EU are taken into account and customers are now beginning to come back to Scandinavia. There are also other parameters that play a role, for example considering safe and stable production environments, especially among the larger pharmaceutical companies.
"Swedish CMOs have a good relationship with the authorities, such as the Medical Products Agency and the different municipalities. We provide a safe base of operation, which the majority of the customers appreciate. Sweden also historically has a reputation for good quality when it comes to pharmaceuticals, with high quality staff, and we still maintain that reputation," says Stokholm.
Esa Nauska, Contract Manufacturing Head at Orion Pharma, agrees that many customers highly value the reputation of quality and stability in the Nordic countries.
"When companies have invested a lot in the development of a product they naturally want to be sure that it can be launched in time without any concerns. That is one important reason for choosing a reliable CMO and country and probably why we are starting to see many companies resettling their production to Europe. As a Finnish CMO the customers generally know the profile of the Nordic countries, which have stable societies and not such high costs."
He also reports that the company is seeing a growing market with an increased number of opportunities for Nordic CMOs, such as Orion Pharma.
"We are getting more inquiries and possibilities from our existing customers, but also new clients. Big pharma companies are consolidating their base of CMOs and want to concentrate the production of the CMOs that they choose and are looking for development and supply chains from CMOs," explains Nauska.
Identifying the customer's needs
Orion Pharma is a globally operating Finnish developer of pharmaceuticals and diagnostic tests. The current portfolio includes both proprietary and generic products for human and animal health in various dosage forms. Orion develops pharmaceuticals in three therapy areas; central nervous system medicines, oncology and respiratory drugs. The company has several clinical pharmaceutical development projects currently in Orion's R&D pipeline, for example the ODM-201 project, an androgen receptor inhibitor indicated for prostate cancer that is being developed in collaboration with Bayer.
Having experience in the global market, know-how and R&D is vital for any CMO. For Orion an important strategy has also been to combine several activities and identify the clients' need.
"For us the way to success has been taking our experience from our own research and development and seeing what to include in the services so that the right customers come to us. We need to maintain quality standards and meet their needs whenever they want," says Nauska.
Finding a niche
Both Orion and QPharma have found that special features provide a good way of maintaining a strong position. Having semi solids such as creams, gels and ointments in the portfolio have been part of Orion's strength. One of QPharma's core activities includes manufacturing of polymeric controlled-release systems. For the past ten years the company has been developing intra-vaginal rings, a contraceptive in the shape of a vaginal ring made out of silicon, which slowly release hormones. All clinical trials have been completed and the plan is to start mass production next year and launch the product in 2017. Another vaginal ring for HIV prevention is also under development.
"Finding a good niche with a product that no one else can provide I think will be even more important in the future," says Stokholm. "By adding complexity to the product and offering specialty products you are able to attract new types of customers and address more markets. An important step is to have the right strategic direction from the board and management to look for this kind of niched areas."
However, working with specialty products also poses some challenges. QPharma's vaginal ring is based on a combination of silicone and other substances that are very rare.
"The availability of resources is quite scarce. The lack of experts within silicone is a challenge and in the end we need to search for them outside of Sweden or train them by ourselves, which ends up slowing down the development," explains Stokholm.
Successful strategies
As can be seen, there are a number of important strategies to ponder upon in order to survive as a CMO in this day and age. Porchia also emphasizes the worth of identifying a distinguishing factor.
"CMOs need to identify and position themselves in segments where growth prospects are strong and where they have, or can build, a differentiated position. Size is a significant differentiating factor, as the biggest players can achieve considerable economies of scale. However, the ability to deliver product over very short timelines is also a differentiating factor, since it requires considerable manufacturing flexibility. There is demand for both large scale manufacturers to serve global blockbuster markets as well as for small production-run specialists to serve national niche markets," says Porchia.
Another successful strategy in terms of product segment, according to Porchia, is for the CMO to focus on drugs with high underlying growth and whose active pharmaceutical ingredient is complex to source or produce. Developing life-cycle management support competencies offered to pharmaceutical companies directly, alongside manufacturing, constitutes another important strategy.
"CMOs have built in-house development capacities that have allowed them to partner with generic drug companies or with branded drug makers in the development of life-cycle management programs for existing drugs. Successful CMOs choose one or a combination of these strategies to differentiate. That's why thriving CMOs are not just specialized in one market segment, but often have multiple areas of expertise to insulate themselves against individual market risks," she says.
More mergers and acquisitions
Looking to the future there are also other trends that can be noted. One is that industry mergers and acquisitions will most likely continue.
"The contract manufacturing market is characterized by several large companies, and hundreds of smaller companies with limited capabilities and capacity. Many of these smaller companies have emerged to serve just a few customers as part of a particular product supply chain. A variety of factors restrict their ability to scale up to handle multiple prod­ucts and customers," notes Porchia.
In addition to the consolidation of traditional CMOs to share assets and gain economies of scale, Porchia believes there will continue to be crossovers where large contract research organizations (CROs) invest in manufacturing capa­bilities.
"CMOs who have traditionally operated autonomously will ex­plore partnerships to fill gaps in their offerings along the entire drug devel­opment and commercialization life­cycle. As CROs look to expand their portfolio, CMOs will face new compe­tition from companies that have clear and established relationships with the same customers. There will continue to be CMO and CRO partnerships that can further benefit their joint customers and their own businesses."
CMOs will continue to seek out ways to differentiate their offerings, assets, and value-added services.
"CMOs are under enormous pressure to achieve financial efficiencies. In an environment where margin pres­sures and competition from new entrants are increasing, contract manufacturers are often vying for the same customers. These factors make the need to create a market differentiation strategy an essential part of the operational business plan," concludes Porchia.
Andrea Celia Porchia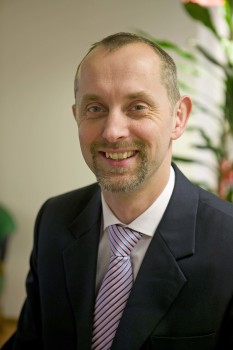 Kenneth Stokholm