Swedish biotech company Affibody received this year's SwedenBIO Award during SwedenBIO's annual conference on May 21 in Stockholm.
The jury's motivation was that "Affibody has on a long-term basis established a well-functioning and successful business model. Affibody has unique technology platform as the basis of the development of protein drugs and imaging products, adapted for cancer and inflammatory diseases. The company has created an international presence through industrial collaborations with leading companies and has consequently become a self-sustaining biotech company. The funds are invested into the research and development of products based on world class science. According to the jury, this business model is an example for other promising companies within the life science business."
Commenting on the award, David Bejker, Chief Executive Officer of Affibody AB, said: "We are thrilled to win this award. It is rewarding for me and my colleagues to receive this acknowledgement for our work in the past few years. Our increasing number of collaboration partners validates our unique platforms that are products of world leading Swedish research. Looking ahead we see great opportunity to further expand our business and continue to create value from our technology platforms."
The award is the industry's own award which aims to focus the attention on Swedish life science companies that have achieved significant national and international recognition during the previous year. Other nominated companies were Moberg Pharma, GU Holding, Immunicum and OncoTargeting. This is the 7th time the award has been handed out. Among the previous winners are Vitrolife, Gyros and Aerocrine.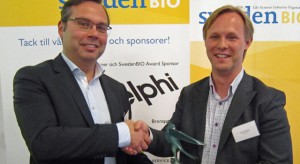 David Bejker, CEO, Affibody (to the right) receives the award from Per Lagkvist, partner at Delphi and SwedenBIO Award sponsor, at the SwedenBIO annual meeting, May 21 2013.